Check out these teams in Football Manager 2023 if you want a new challenge, no matter how much you know.
Football Manager is one of the most realistic sports games out there, and one reason is that it has almost every professional football team. There are teams and leagues from many different places. Not all of them have licenses, but they can all be played.
Even though this is great, it makes it hard to choose a team to manage. Just too many things to choose from. You could stick with the teams and leagues you know, or you could try out a team that isn't as well-known. People are better suited to different teams. Still, there are a few clubs that any player can use well. Here are some examples.
Newcastle United (England – Premier Division)
Newcastle has become one of the most popular teams to use on Football Manager in recent months. This is because they now have owners who are very wealthy and want to make investments. And unlike Manchester City, they don't have any superstars on their team yet. So it's not too easy, since you still have to put together a team.
That doesn't mean they don't have any good players already. Callum Wilson, for example, is a legend on FM because, even though he's a good striker in real life, he's usually a lot better in the games. With him and Nick Pope, Kieran Trippier, and Alexander Isak, you have a strong team. If you spend your money well, you might be able to compete with the best teams in the Premier League in a few years.
Olympique De Marseille, AKA OM (France – Ligue 1 Uber Eats)
PSG is the best team in France, and they have been since they got a lot of money. They are scarier than ever now that Mbappe, Neymar, and Messi are playing up front. So, it's interesting to try to replace them as France's best team in any save.
Marseille is the team most likely to be able to do that. They might have the second-best team in the league, if not the best. But the team is also not perfect because many of the players are on loan from other teams and others are getting older. Still, there is a good base to build on to be able to compete with PSG in a few years.
Juventus (Italy – Serie A)
For a long time, Juventus was a boring option in this great sports simulation series. After all, they were the best team in Italy. Every year, they won the league and had the best players. That's no longer the case.
Many of their best players are getting older, and in the winter update, they start with -15 points because of some questionable transfers in the real world. It's a bad situation for Juventus fans, but it makes them a good choice for a team in FM23. The goal would be to make Juventus the best team in Italy again after taking away 15 points.
BRG, AKA Braga (Portugal – Premier League)
Benfica, Porto, and Sporting CP are the three most well-known teams in Portugal. This is because they are the best clubs in the country. In fact, a team other than these three hasn't won Portugal's top league since 2001, and you have to go all the way back to 1946 to find another example.
So, the trio has a lot of power, and a save where you try to take it away from them is a fun challenge. Braga, also known as BRG, is the best team to do that. They have the best team outside of the big three and a good youth program, but it may be a while before they can compete for the top trophies.
Barcelona (Spain – First Division)
Most times you play Football Manager, Barcelona is one of the top three best teams. But the Spanish powerhouse isn't doing so well these days. Messi and Iniesta are no longer with the team, and money is tight for the club.
On the bright side, they still have young players like Pedri and Gavi who are very good, as well as world-class veterans like Lewandowski. So, there is a good chance to bring the club back to its former glory and make sure that Real Madrid doesn't take over Spain.
Niigata Unicorn (Singapore – Premier League)
Sometimes the most fun you can have is when you're in charge of a team that isn't very well-known. Niigata Unicorn are not very well known. After all, they are a team that plays in Singapore. The fact that they aren't well-known isn't the main thing that makes them fun to control, though.
The club also has a strange transfer policy. The manager can only sign Japanese players, even though the club doesn't pay in the Japanese league. This makes it a fun challenge, because you have to get around the fact that you can't change players if you want to be the best team in Singapore.
Wrexham (England – Vanarama National)
Over the years, Hollywood stars have been in a lot of games, but it's rare to see them in a game like Football Manager. But if you decide to take over Wrexham, Ryan Reynolds and Rob McElhenney can be your bosses.
Because of who owns it, the old Welsh club is the National League's richest and most well-known team. So, it's fun to save in Football Manager because you have a chance of moving up in the English leagues. Of course, it will take a while to get to the Premier League, but the journey will be fun.
Borussia Dortmund (Germany – Bundesliga)
When it comes to teams to manage in Football Manager, Borussia Dortmund is always a good choice. They have always been a fun team to be in charge of. This is because they usually have great young players who have a chance to become great players. Plus, if you're Dortmund, it's always a fun challenge to try to pass Bayern Munich and become Germany's best team.
But this is easier to say than to do. One problem with having great young players is that top clubs are always trying to sign them. For example, it will be hard to keep your best player for a long time if his name is Jude Bellingham. Still, it's part of the fun to try to win while people are coming for your players.
Arsenal (England – Premier Division)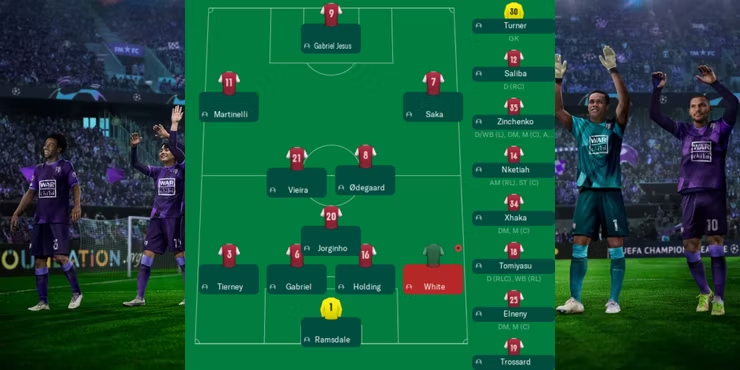 Arsenal is the 2022-2023 Premier League season's biggest surprise. Even though they were a sleeping giant for many years, they are now once again in the running for the title. And it's fun to be in charge of them because they have a young and skilled team. Still, that doesn't make it easy for Arsenal to stay in the Premier League, which is still a very tough league.
But if you're a good manager, you could bring the London club back to its glory days. You could make them regular contenders for the Premier League and the Champions League. They have never won the second one, so that gives them even more drive.
The Team You Support
If you're new to the Football Manager series or haven't played in a while, your favorite team is the best choice for your first team.
If you are a fan of a club and watch them often, you probably already know who is on their team. This gives you a good head start, which you may need as you try to figure out how everything works. Even so, Slope Game is a hard game. Another good thing is that there is no better feeling than taking a club you already love to new heights.